It's easy to use Google to figure out the best hotels and restaurants in Nairobi, but you'll often come up with a poor-quality recommendation. Also, it's time-consuming to figure out the right places, but Kevic Tours & Company Ltd has done all the work for you.
Our comprehensive guide will help you pick the best hotels and restaurants in Nairobi with stunning swimming pools. Check them out;
Crown Plaza Nairobi- Large outdoor pools
Sankara Nairobi- Poolside cabanas
Fairview Hotel- Crystal-clear water
Eka Hotel- Heated swimming pool
Sarova Stanley- Stunning Swimming Pools
Nairobi, Kenya's best hotels and restaurants, have something for everyone. Nairobi is the busiest city in Kenya; it is often challenging to locate some of the best places to stay or have a fantastic moment in town.
Therefore, Kevic Tours & Company Ltd strives to provide stunning booking solutions to local and international travelers looking forward to a serene environment for momentary pleasure.
Thus, if you are still trying to get a superb hotel and restaurant with a stunning swimming pool, the following list of hotels in Nairobi will be a must-pick, for they're designed with everything a traveler needs for refreshment.
Let's dive into it;
Best Hotels and Restaurants with Stunning Swimming Pools
1.     Crown Plaza Nairobi
The Crown Plaza Nairobi is one of the best hotels and restaurants in Nairobi, Kenya. It features stunning swimming pools for guests to enjoy during their stay.
The pool area comprises two large outdoor pools, a poolside bar, and several relaxing cabanas. Additionally, the property offers a variety of amenities, such as;
A spa
Fitness center
Business center
Complimentary Wi-Fi.
The hotel also boasts five onsite restaurants that offer delicious international cuisine from around the world and a selection of local Kenyan dishes. Guests can also take advantage of the hotel's 24-hour room service or at one of the area's many nearby cafes and eateries.
Therefore, whether you are looking for a luxurious stay or want to relax by the pool with friends and family, Crown Plaza Nairobi has something to offer everyone. Experience a top-notch feeling with Crown Plaza by booking or inquiring more here or calling +254795809940
2.     Sankara Nairobi
Have you ever experienced a beautiful feeling just by chilling on the poolside with your spouse, enjoying the breeze of a pool? I tell you, Sankara Nairobi hotel has a magnetic attachment once you enjoy a taste of its swimming pool.
This is one of the best Hotels and Restaurants with Stunning Swimming Pools in Nairobi, Kenya, perfect for all genres of cohorts. It is located in the heart of Nairobi, so this luxurious destination provides guests with luxury accommodations, gourmet cuisine, and a fantastic swimming pool.
Also, the hotel boasts several swimming pools with breathtaking views of the city skyline and lush gardens surrounding it. The onsite restaurants offer a variety of mouth-watering dishes from around the world and a full bar for those looking for something to relax with after a long day of exploring.
After dinner, guests can take advantage of the poolside cabanas to lounge and enjoy their private time in a tranquil atmosphere.
Whether looking for a romantic getaway or just some time away from home, Sankara Nairobi Best Hotels and Restaurants with Stunning Swimming Pools are an ideal destination for everyone.
For more information, call +254703028000 or book with us online.
3.     Fairview Hotel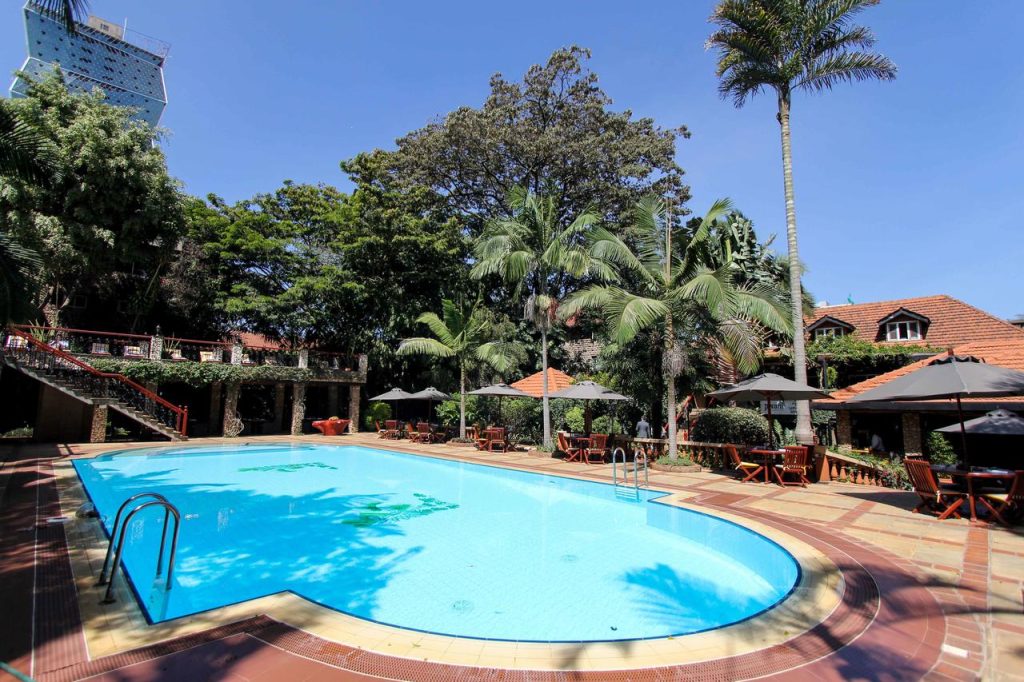 The Fairview Hotel is one of the town's best hotels and restaurants, boasting stunning swimming pools and various amenities.
The pools are some of the most beautiful, with crystal-clear water surrounded by lush greenery and plenty of seating space for lounging. Guests can enjoy various activities from poolside yoga to lap swimming or relaxing in the sun on one of the many chaise lounges scattered throughout.
The hotel also has several restaurants offering delicious dishes worldwide and an onsite bar and lounge where guests can socialize or enjoy live music and entertainment. With its perfect combination of comfort, convenience, and luxury, it's no wonder that Fairview Hotel is one of the best hotels and restaurants with stunning swimming pools.
Connect with us for more insights about Fairview Hotel.
4.     Eka Hotel
Regarding king of the best restaurants and hotels in Nairobi with an outstanding swimming pool, Eka Hotel-is a no-miss of the top 4. One added advantage of this hotel is that it is situated in a tranquil area of the city, boasting an outstanding view of the city skyline.
Their luxurious and spacious hotel has modern amenities such as flat-screen TVs and plush furnishings. The restaurant is renowned for its excellent cuisine featuring fresh ingredients from local markets and chefs that create delicious dishes with a flavors flavor.
Guests can enjoy a relaxing swim in their heated swimming pool or get energized with their water sports facilities such as;
Kayaking
Snorkeling,
Scuba diving.
The pool also features a Jacuzzi, sauna, steam room, and massage therapies. Eka Hotel's swimming pool is one of the best in town. What are you waiting for; you can book this hotel jun at an affordable price by clicking here.
5.     Sarova Stanley
Do you want to enjoy a refreshing dip in the pool or relax in one of the sun loungers while taking in the beautiful views of Nairobi? I hear you, yes. If so, Sarova Stanley is one of the best restaurants you can imagine for such a fantastic taste of amenities.
The hotel also features a fully-equipped gym, spa, and several restaurants and bars. The staffs at Sarova Stanley are always on hand to provide guests with an unforgettable experience, ensuring all their needs are met.
Therefore, from the moment guests arrive until they check out, they will be able to enjoy all this luxury hotel offers without a worry in sight.
Bottom-Line about Best Hotels and Restaurants with Stunning Swimming Pools
When you travel, we know you want to book a hotel with a swimming pool to swim and relax.
We are here to provide a comprehensive guide to the city's best hotels with swimming pools! You can visit Kevic Tours & Company Ltd if you want more accurate information.